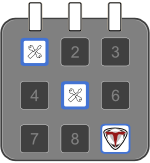 Twitchtoo Subscription Services for Existing Websites
Basic Monthly Website Support
Monthly service to maintain regular website updates and web operations support to keep your business running smoothly!
Available for:
Static Entry Level Websites
Basic E-commerce Websites -
up to 50 products
$250
per month
Preferred Monthly Website Support
Our basic maintenance package with your choice of custom business tool module creation or monthly business health reports.
Available for:
All existing customer websites
$350
per month
Intermediate Monthly Website Support
This monthly service adds priority updates, minor site modifications and error log troubleshooting/repair.
Available for:
Intermediate E-commerce Websites - up to 50 - 250 products
$550
per month
Advanced Monthly Website Support
Everything you need to support your existing business operations, employee training, new module/branding design, customer business tool building, site updates, marketing assistance, business health reports, analytic feedback.
Available for:
Advanced E-commerce Websites - up to 250 - products and up!
$850
per month
Monthly PHP Module Coding
This service acts like a tab towards small to medium sized new module creation or existing module install and testing to ensure you have the digital tools you need to run your business online.
$650
per month
Urgent Technical Support
Computer down? E-commerce website not running? Get computer, hardware, software and website help when you need it!
$125
per hour
Flat Rate Technical Support - US
Fair - Flat Rate Fixes. Priority tech support without the hourly expense.
USD $250
flat rate