Keep your site up-to-date each month with our subscription services!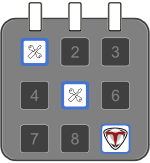 Twitchtoo Subscription Service
Monthly Maintenance Support
- Service to maintain regular website updates, error log monitoring, troubleshoot daily operations like order/shipping problems
$100
per month
Monthly Module Coding
- This service acts like a tab towards small to medium sized new module creation or existing module install and testing to ensure you have the digital tools you need to run your business online.
$250
per month
Urgent Technical Support
- Computer down? E-commerce website not running?
- Get computer, hardware, software and website help when you need it!
$350
per day

Payments Accepted - PayPal, VISA, MasterCard, Amex, Discover, E-Transfer, Cash